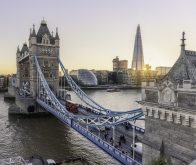 With the new ETA announced for GCC and Jordanian nationals, Visit Britain conducted a special webinar for the agents in the GCC region. It was a well-attended webinar with over 300 agents posing their questions to the two speakers, from Visit Britain and the UK government's home office.  At the beginning Visit Britain shared about their brand-new campaign for 2024, where there was a host of varied experiences which come in the bucket list of the travellers especially from this region as the interest keep increasing mainly due to the great outdoors, rich heritage, culture and the adventurous explorations. A special video was placed showcasing all the great areas to explore, the winter wonderland in Hyde Park, Oxford, Regent etc. "Britain has got it. I invite you to see it for yourself. This is our brand-new brand campaign that has launched this month. Welcome to Britain, where there's always more to explore. Journey, wild coastlines, adventures through our vibrant cities, go monster hunting, meet the locals. Come see things differently. Plan your trip and visit Britain.com. As you can see, let me just check if I've off mused. I've this before. Yes, as you can see, there is so much to see and do in just 30 seconds. But what I want to do is start with the most magical time of the year. So basically, there's nowhere else in the world, I think, that does the festive season quite like the UK. We all know of winter wonderland in Hyde Park, Oxford, Regent and Carnaby Street, Drakes and Twins and Lights, and the famous Ice Rink at Somerset House."
The power point presentation included, Winter Wonderlands and Festive Season, Coronation Christmas (London), Kingdom of Winter (London), Christmas Markets (Birmingham),  Wishmas at Wembley (London), Castle of Light (Edinburgh), Christmas at Kew Gardens (London) and Christmas at Heaton Park (Manchester). In terms of anniversaries, exhibitions and events Wimbledon, London Fashion Week, Chelsea Flower Show, Edinburgh Festival Fringe, Glastonbury and Royal Ascot were revealed. Getting on to what's new in 2024 included, Icons of British Fashion at Blenheim Palace, 200th anniversary of National Gallery, Rebalance Bath – Festival of Wellbeing, RHS Urban Show, Manchester and of course Brit Fest.
Moving on to the most important ETA, Aaron Walton, ETA Engagement from Home Office shared an introduction to Electronic Travel Authorization (ETA) and Future Border and Immigration Systems (FBIS) Programme. "An ETA is advance permission to travel to, or transit through the UK, for those who do not currently need to obtain a visa, or do not have a UK immigration status. An ETA will be valid for 2 years or until passport expires, whichever sooner and for multiple journeys to the UK within that period. The application process will be light touch, low cost and online. If successful, an ETA – digital permission to travel – will be granted."
He further moved on to show the benefits of an ETA which is to strengthen the security of the UK border enhance our ability to screen travellers and stop those who pose a threat from travelling to the UK. ETAS will fill the current gap in advance permissions for non-visa nationals. Everyone wishing to travel to the UK (except British and Irish citizens) has permission to do so in advance of travel. Increased use of automation will speed up clearance at the border to improve overall passenger experience. He reiterated the persons who require an ETA which includes infants and children, tourism or visiting family and friends, business trips or studying as a visitor, transiting through the UK etc.
At present the ETA is for Nationals or locals of GCC and Jordan, Qatari's have already started this facility since November and the rest of the GCC and Jordan will receive by February 2024. He further stated that "in addition to our international Communications campaign, we are keen to support you in preparing visitors for these changes. We have created an ETA communications partner pack to assist you with this. It includes shareable ETA materials for embedding throughout your channels. We recommend you encourage relevant visitors to the UK to prepare for needing an ETA before they travel in the future. Please communicate these changes to your staff, so they are aware and able to confidently signpost customers."
He shared a Case study: Rima Al-Abdullah – Rima is a Qatari national. She is visiting her Aunt in the UK for a three-month vacation next summer. During her visit, she would like to take a day-trip to Paris via Eurostar, and later, a short shopping trip to Berlin. Previously, with EVW Each time Rima travelled or returned to the UK during her three- month visit she needed to apply for an EVW which was valid for one trip and cost £30 for each application. With an ETA from 15th November 2023 Rima is now a non-visa national and can apply for an ETA to travel to the UK instead. The ETA costs £10 and allows her to make multiple trips into and returning to the UK without having to re-apply during her vacation. Not only is this a cost saving, but it is also more convenient as she is not restricted to a specific train or flight."
He reiterated that "in order to help with communications and engagement, to help prepare your audiences for ETAs we have created a partner pack containing shareable messages and products. This pack includes: Key messages, Factsheets with FAQs, Social media assets and supporting post copy, Guidance videos, Display assets and ETA GOV.UK webpage. Arabic versions of our stakeholder factsheet and social asset are also available within this pack."
For Feedback or requests on communication campaign products: ETAcommunications@homeoffice.gov.uk
For ETA engagement opportunities: ETAengagement@homeoffice.gov.uk