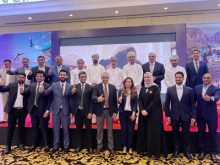 Ministry of Heritage and Tourism in Oman conducted a special promotional roadshow in five major source cities in India recently. The roadshow comprised a delegation from the Ministry of Heritage and Tourism, Omani tour operators, hotels, and airlines. These roadshows were held in New Delhi, Ahmedabad, Mumbai, Chennai and Bangalore. The aim of this five city roadshow was to showcase outstanding experiences in Oman's unique destinations and promote unique travel experiences for leisure, weddings, conferences and exhibitions.
In July alone, the number of visitors, including those from India to Oman reached 36,087, the highest in the last decade. This year, arrivals from India reached 167,678 between January to July.
Commenting on the launch of the promotional roadshow, Ms Asma Salim Al Hajri, Deputy Director General for Tourism Promotion at the Ministry of Heritage and Tourism, said: "India is one of the most important source markets for the Sultanate of Oman under our marketing and promotional strategy for all target segments. The roadshow will showcase the unique selling points (USPs) of destinations in Oman that will pique their interest to inspire Indian tourists to travel."
"We also seek to promote the Sultanate as an attractive destination for weddings as this is one of the growing tourism segments, especially for visitors from India. With its pristine nature, picturesque beaches and unique architecture, Oman has seen many Indian weddings for its exceptional capabilities in terms of logistical facilities and accommodation," she added.
Al Hajri also said that the Sultanate of Oman is a multi-season destination known for its natural beauty, cultural heritage and hospitality. It has been attracting tourists of all categories for years. "We want to attract more high-income travellers from around the world to experience the luxurious and diverse hospitality offerings that include Kempinski Hotel Muscat, The Ritz-Carlton Al Bustan Palace, Shangri-La Resorts, Anantara Al Jabal Al Akhdar Resort and Salalah, Alila Al Jabal Al Akhdar and Salalah, Six Senses Resort in Dibba and other projects that offer high-end luxury hospitality.
During the roadshow, the Ministry's delegation met senior representatives of the Indian tourism industry and the Indian media. They highlighted the unique tourism experiences in the Sultanate and discussed ways to collaborate, build partnerships and work with Indian businesses to help bring tourist flows from India back to pre-pandemic levels.