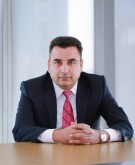 Musafir.com in collaboration with the India Tourism, Dubai (Incredible India – an international marketing campaign by the Govt. of India) has formed a comprehensive partnership to promote tourism in India and to raise awareness about India as a leisure destination among UAE travellers hailing from diverse backgrounds and to highlight India's vast culture, demography and rich heritage among the UAE travellers. With the association and rigorous promotion of India during December, Jan and February, Musafir.com witnessed a growth of 12 per cent in their flight bookings to the Indian sector out of the UAE and 21 per cent increase in holiday packages sold by Musafir.com to India.
I.R.V. Rao, Assistant Director of Incredible India, states, "Our aim is to increase our foothold on the digital front and to further target key new demographics, at which Musafir.com has helped us immensely given their varied demographic base on the online front. We have witnessed a sharp uplift in our Arab enumeration and look forward to working with Musafir.com closely again, to help establish India as a tourist destination in the GCC region."
"The association between Musafir.com and India tourism was extremely successful and the partnership further strengthened the tourism influx into India. Tourism is the second largest foreign exchange earner in India and it is a brilliant source of cultural exchange between the countries and in addition opens the gateway for numerous business opportunities. Tourists from both sides are visiting for leisure with an increased number of UAE nationals availing the tourism facilities in India" said Rajesh Pareek, Group CEO, Musafir.com.
Musafir.com has managed to create an awareness amongst the UAE population, (specially expats) through their digital acquisition campaigns with a strong focus on popular Indian tourist destinations such as Himachal, Goa, Kerala, the Golden triangle etc. India is an all-encompassing cultural melting pot for travelers from the UAE and the wider Middle East region.