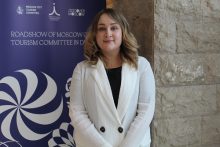 Moscow City Tourism Committee kicked off its first in person roadshow in Dubai with 12 partners representing hotels, travel agents and tour operators from Moscow and St.Petersburg. The event was attended by around 90 key travel agents and tour operators in Dubai who were able to discuss on one on one basis the strategies to promote the destination with their clients.
The roadshow kicked off with a comprehensive presentation from key partners in Moscow City Tourism about the offerings for the GCC market. One of the key highlights of the presentation was that 50 countries that are non GCC are on the list for e-visa whilst those not on the list are able to apply for a visa for a fee of US$ 40. They further explained about the current covid rules and regulations and the fact that wearing a mask and keeping social distance is z necessity in order to keep everyone safe; the travelers and the residents.
Speaking on the occasion Julia Syundyukova Head of International Projects Moscow City Tourism shared that their main aim from this roadshow is to educate the agents about their many offerings for the GCC market as just before the pandemic they had a very good number of visitors from the region and since the two countries share the same safety standards with covid protocols. She further reiterated that the B2B sessions with agents will have a great impact and engage both parties to work together on the requirements for the region. She further stated that cuisine wise with more halal food offerings, experience wise with Arabic speakers to help guests, prayer rooms, family oriented experiences will benefit the region.
The presentations at the roadshow demonstrated the tourist potential of Moscow in the gastronomic sphere: this fall, the capital of Russia became the first city in the post-Soviet space to be included in the Michelin Red Guide. In addition to the two upcoming roadshows, the Moscow City Tourism Committee is continuously developing and implementing highly-targeted marketing and public relations activities through industry experts in the region, to engage and educate the region's outbound travel professionals, so they in turn develop innovative and exciting packages that showcase the destination's unique offerings and experiences.
In 2021, Mosturizm organized ten digital roadshows with about 2000 foreign and 500 Moscow participants and more than 4500 online negotiations.  Most recent digital roadshow targeting the GCC travel trade was held this summer, from the 9th to 12th of August for the UAE market, Saudi Arabia, Kuwait, Bahrain, Oman, and Qatar. The event saw a total of 615 scheduled meetings and a total of 286 registered companies.