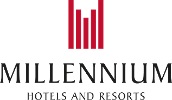 Millennium Hotels & Resorts Middle East and Africa (MEA) will assume management of Dubai's iconic Crowne Plaza Dubai. The property will be rebranded as Millennium Plaza Downtown Hotel and is a testament to the company's commitment to regional growth.
Fahad Abdulrahim Kazim, Chief Executive Officer of Millennium Hotels and Resorts MEA, said, "The hotel is an icon of the Dubai skyline, and its enduring legacy is a testament to the continued transformation of the city. We are excited to reimagine and redevelop the property in line with the needs of tomorrow's traveller, whilst retaining the charm and familiarity that has made it a favourite destination in Dubai."
"Its location on Sheikh Zayed Road and landmark status exemplify the type of properties that Millennium Hotels & Resorts (MEA) strives to add to its portfolio. This announcement is very much in line with our development strategy focused on growth in prime locations in the region."
An AED500m renovation program is already underway and is due to be completed over the next two and half years, including the hotel tower with 568 rooms, suites and apartments, meeting spaces, F&B outlets, and the commercial tower.
The hotel is well-placed in the heart of the city, a 5-minute walk from the World Trade Centre, across the road from the Museum of The Future and Dubai Financial Centre, 15 minutes from Burj Khalifa, the tallest building in the world, Dubai Mall, and 10 minutes from Dubai International airport.