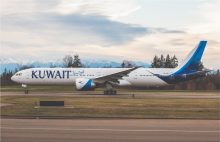 As part of the continuous endeavours to expand its network of destinations for its valued customers, Kuwait Airways announced the operation of its scheduled commercial flights to Medina, in the Kingdom of Saudi Arabia, with three flights per week on Sundays, Tuesdays, and Wednesdays. Two flights will be launched as of 17th August 2022, followed by three flights from 13th September 2022. In a statement to the press, the Company said that the operation of Kuwait Airways' flights to Medina is part of the Company's continuous commitment to launch new and diverse destinations that meets the requirements of its passengers, noting that Medina is one of the destinations of great importance to Muslims due to its religious and cultural landmarks, as well as its historic holy places.
Kuwait Airways added that it is relentlessly striving to provide its passengers with diverse options for meeting their travel requirements with better services, as well as offering them with all means of comfort during their travel on board, starting from providing reservations for customers through all available channels and providing them with appropriate services, from the check-in at Terminal 4, completing their travel procedures with ease and enjoying the Company's services on board its diverse fleet of aircraft.
It is worth noting that Kuwait Airways is dedicated to the comfort and convenience of its passengers as those traveling on Royal and First Class are allowed to carry three pieces of baggage weighing 32 kilograms per piece. Business Class passengers can carry two pieces of baggage weighing 32 kilograms per piece and passengers on Economy Class carry two pieces of baggage of 23 kilograms each. Moreover, passengers travelling on board Kuwait Airways, in all classes, can carry hand baggage, that does not exceed 7 kilograms.