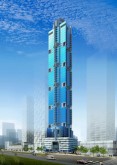 In the run up to Arabian Travel Market (ATM) 2019, Jannah Hotels & Resorts, the UAE's leading luxury halal hotel brand, has announced that it is expanding its footprint in the UAE by adding two new properties to its current portfolio. Jannah Dubai Creek, a new four-star upscale hotel in Dubai is scheduled to open its doors to the public in September 2019. The 138-room hotel will feature five food and beverage outlets, a private swimming pool, gym and spa as well as a multitude of innovative features, including a seamless check-in experience, highlighting Jannah's continued focus on technology.
The popular hotel chain is also opening a 57-storey property in Sharjah in 2022.  Located in one of the most exciting areas of the city, world-class amenities at Jannah Ras Al Khor will include a private swimming pool, state-of-the-art health club, children's play area, cafes and restaurants. These strategic and exciting developments will be showcased at the Jannah stand at ATM 2019, according to Richard Haddad, CEO of Jannah Burj Al Sarab Hotel.
"Strategic locations, coupled with Jannah's unparalleled Arabian hospitality and some very symbiotic partnerships, have helped the brand register phenomenal growth in the past few years. At ATM 2019, we look forward to the opportunity to network with colleagues near and far to build new relationships whilst showcasing the niche hospitality services that have stood us in good stead," Haddad said.
"Be it Sharjah's growing reputation as a cultural, tourism and leisure centre or the phenomenal growth we have seen in the Dubai Creek area, we are certain that our new properties will be just as successful in attracting discerning business and leisure travellers looking for five-star services, and unrivalled Bedouin hospitality across the country's newest development zones," he added.