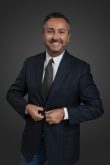 Travel, Aviation and Hospitality industry leaders coming from Italy and UAE will meet in-person November 22 at the Conrad Etihad Towers Abu Dhabi hotel and share mega and micro trends that will define the future landscape of the tourism industry. What will the impact of Expo 2020 Dubai on international tourism be? What will tomorrow's travel trending topics be? What are the strategic communication levers that the tourism industry should use to engage travelers in the next decade? How to develop tourist excellence in terms of products, services and personnel?
Travel Hashtag is a traveling conference-event format, born to deepen the scenarios that will be outlined shortly in the tourism industry. Aimed at developing valuable connections among key industry decision makers, Travel Hashtag draws attention of a community of entrepreneurs, professionals and journalists all interested in sharing about news, trends and visions concerning the future of travel.
"We are truly grateful to our established partners Conrad Abu Dhabi Etihad Towers, DCT Abu Dhabi, Etihad Airways, Tourmeon for facilitating the international debut of our conference format in the UAE" – said Nicola Romanelli, Chairman of Travel Hashtag and founder of brandsavetheworld (International Strategy Consulting Hub).
Among the guest speakers already confirmed also Giorgio Palmucci (ENIT- Italian National Tourist Board), Husain Alhashm (DCT Abu Dhabi), Martin Drew (Etihad Airways), Alessandro Redaelli (Conrad Abu Dhabi Etihad Towers), Tarik Achab Zekri (Expo 2020 Dubai), Fabrizio Puglisi (Tourmeon) and one of the most famous Travel & Lifestyle Influencer in Italy, Federica Di Nardo.
"This is a tremendous opportunity for key hospitality travel and tourism leaders to come together and share recent experiences in order to enhance our approach on future travel trends." – said Alessandro Redaelli, Conrad Abu Dhabi Etihad Towers GM – "It is important during this time to seize the moment and creatively adapt to the changing concept of hospitality, capitalize on new trends and expand market share".