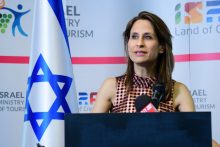 Israel is reopening its doors to vaccinated tourists starting at the end of May, supported by the launch of a strategic campaign that ensures as many foreign tourist arrivals as possible in 2021.  The announcement was made by the Minister of Tourism Orit Farkash-Hacohen at a press conference held in Tel Aviv.  "Israel today is a world leader in safety and health, and we will make sure every potential tourist knows this when planning their summer or winter vacation," Farkash-Hacohen stated, "We cannot miss this opportunity – and, as minister of tourism, we won't."
"Dubai has great tourism potential for Israel," the Minister said, adding "The UK and the US have always been large markets for inbound tourism to Israel. I have no doubt, we will see many tourists from all three countries within a short period of time."
Farkash-Hacohen also announced the ministry would reinstate a directive incentivizing foreign airlines to operate flights to the Ramon Airport located outside of Eilat. The incentive, which was in place before the COVID pandemic, is now being budgeted at a cap of NIS 25 Million, which will enable foreign carriers to receive financial incentives for every tourist they bring to Israel.
"In recent years, Indian travellers have become familiar with the cities of Tel Aviv and Jerusalem, and now we want to introduce them to the resort city of Eilat, on the shores of Red Sea.  Once international travel resumes from India, we are confident that Eilat will be a destination on the minds of the Indian travellers, so we want to make progress with potential flight routes when the demand comes." said Sammy Yahia, Director of Tourism, India & Philippines.
"Ensuring inbound tourism to Eilat is my obligation to the city's residents, but this is also a clear statement to the entire tourism industry: we are preparing for the resumption of tourism on a large scale as soon as possible," the Minister said.
Speaking about the technical details, the Minister explained Israel would open to a limited number of vaccinated groups at the end of May, before allowing an unlimited number of groups to enter a month later. The plan, as she explained, was that in the month of July, Israel would open to independent vaccinated travellers, without the need to be part of an organised group visit.
"I know there is some criticism, and I can even agree with some of it," Farkash-Hacohen said, stressing the plan wasn't perfect but it was needed to ensure Israel maintained its position as a healthy country and not risk its citizens.  "We are gradually reopening tourism to Israel, to ensure we protect the health and wellbeing of all Israelis, while enabling those in the tourism sector to return to work and rebuild – and welcoming back the many people yearning to return."