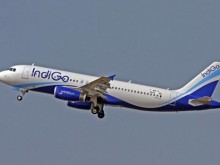 IndiGo, India's largest budget-carrier, plans to introduce two daily routes to Sharjah International Airport, which will become its sixth international destination. The airline announced the launch of daily non-stop Sharjah-Kozhikode (CCJ) flights from 20 March and daily non-stop Sharjah-Thiruvananthapuram (TRV) flights from April 8.
Headquartered in Gurgaon (Gurugram), India, IndiGo is India's largest passenger airline with a market share of 40.3 percent (December 2016). IndiGo is ranked among the top ten best low-cost airlines in the world by leading consumer aviation website Skytrax and among the 10 On-Time Performers in the Asia Pacific region by FlightStats, a leader in global flight information services. The airline plans to to operate 857 daily flights connecting 43 destinations from March 2017.
Sharjah-based Air Arabia already operates flights between the emirate and 13 key Indian destinations. Meanwhile, Air India Express added three new routes last year connecting Sharjah with Mumbai (SAHAR), Chandigarh (IXC) and Tiruchirapalli (TRZ) airports, bringing its total number of direct Sharjah services to seven. The low-cost airline also operates direct flights to Sharjah from Kochi (COK), Kozhikode (CCJ), Thiruvananthapuram (TRV) and Varanasi (VNS).Jet Airways now flies daily to Sharjah from Kozhikode, or Calicut (CCJ) and Kochi (COK), both in the south-west coast Indian state of Kerala. The airline launched a daily service from Mangaluru in Karnataka state in 2016, but stopped flying the route at the end of the year due to operational reasons.