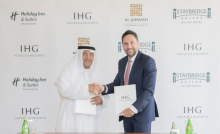 IHG Hotels & Resorts announced the signing of Holiday Inn & Suites Taif and Staybridge Suites Taif, in partnership with Al Jumaiah Group. Both properties are set to open in Q4 2025 in the Al Shafa, Taif, a relaxing destination located 2,500 meters above sea level and known for its historical sites, panoramic scenic views, pleasant weather, and fragrant rose gardens. The new resorts will play a vital role in supporting Taif's growing hospitality scene and further cementing IHG's commitment to Saudi Arabia's Vision 2030.
Taif, as of the 10 strategic destinations under Vision 2030, is playing a key role in contributing to achieving Saudi Arabia's ambitions for the tourism and hospitality sector with substantial government investments in infrastructure and its emergence as a prominent tourism destination. With its all year round leisure demand appeal, the dual signing of IHG hotels will add 280 rooms, catering to the high demand for world-class hospitality offering in the city.
Haitham Mattar, Managing Director – India, Middle East and Africa, IHG Hotels & Resorts, commented: "We are pleased to strenghten relationship with our existing partner, Al Jumaiah Group and bring two brands from our essential and suits offering to the beautiful city of Taif. Having opened first internationally branded hotel in Taif – InterContinental Taif decades ago, we are proud to continue to strenghen our footprint and bring new brands to the city as it grows into a prominent tourims destination in the country.
He added: "Saudi Arabia is a priority market for IHG – the continuous growth of our global portfolio within the Kingdom reflects our unwavering commitment to the vision of the leadership of the country and emphasizes our dedication to support the Kingdom's ambitious transformation.Our two new hotels, Holiday Inn & Suites and Staybridge Suites, will bring a unique blend of offerings to the city, each playing a vital role in advancing the tourism and hospitality sector."
Mr. Abdulaziz Al Jumaiah, CEO of Al Jumaiah Group, said: "We are pleased to further strenghten our partnership with IHG Hotels & Resorts through the debut of Holiday Inn & Suites and Staybridge Suites in Taif. We value the continuation of increasing our investment portfolio and strengthening this partnership. Our company has previously partnered with IHG to manage and operate two hotel projects, Crowne Plaza Jeddah Al Salam, and Crowne Plaza Riyadh Al Waha, and we are proud to continue supporting Saudi Arabia's growing tourims and hospitality sector together. This signing aligns with our vision of offering exceptional hospitality experiences in the city of Taif, and with the hotels' prime location, combined with outstanding facilities, IHG's world class loyalty programme and systems, I am confident these hotels will be a huge success."
Al Jumaiah Group is one of Abdullah Ali Al-Jumaiah's multi-activity investment companies that has kept pace with the rapid growth of the Hospitality scene in the Kingdom. The company invests in this sector through several projects of various uses in regions of the Kingdom, including hotels, resorts, and multi-use tourism and entertainment projects, which are expected to contribute to the leap in the development of the tourism and hospitality sector of Saudi Arabia.
Staybridge Suites Taif:
Nestled amid the picturesque mountains of Al Shafa, Taif, Staybridge Suites Taif will feature standalone villas, studios, one, two, and three-bedroom apartments, all offering unobstructed views of the mountain range. The resort will feature an All-Day Dining and a specialty restaurant, a fitness center and a pool.
Holiday Inn & Suites Taif:
Suitated in the tranquil Al Shafa Mountains, Holiday Inn & Suites Resort Taif will be an ideal choice for travelers looking for a relaxing and rejuventating getaway in Taif.
Alongside stunning scenery and comfortable accomodations including standalone chalets, guests will benefit from a variety of amentities including an All-Day Dining, speciality restaurant and lobby lounge. For those looking to unwind, the resort's swimming pool and fitness centre will make a perfect pair . The site will also feature retail shops, a cinema theater, and a ballroom for special occasions.
Guests of both hotels will benefit from IHG's best-in-class loyalty program, IHG One Rewards, which provides an elevated guest experience – giving them richer benefits that can be availed on IHG's new mobile app. The benefits range from suite upgrades and annual lounge memberships to extended check-outs, and much more, depending on the chosen benefit level.
IHG currently operates 40 hotels across 5 brands in Saudi Arabia, including: InterContinental, Crowne Plaza, Holiday Inn, voco and Staybridge Suites and has a strong pipeline of 32 hotels due to open in the next 2-5 years.