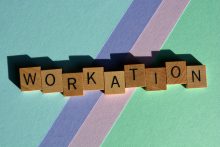 Expo 2020 in the UAE has showcased resilience and strength in bringing tourists back to the country through safe measures. The world's biggest cultural event is nearing the three million mark as it has already recorded 2,942,388 visitors, both local and tourists, in four months. With the theme of travel and connectivity from January 9 to January 15, Heriot-Watt University Dubai takes a look at three travel trends that are here to stay. Sustainable Tourism is one of the biggest emerging travel trends globally. The concept covers a holistic tourism experience that impacts a country's society, economy, and environment. According to a report by booking.com,  83 per cent of travelers believe that the pandemic served as the tipping point for travelers to understand the importance of sustainable traveling.
Domestic Tourism has increased in the past two years due to travel restrictions, the need for PCR tests and unpredictable lockdown situations which forced residents of countries to rethink their travel options. As a result, the global domestic tourism market is expected to reach USD6.73 trillion by 2030.
Working Vacation or Workation as travellers refer to it continues to gain popularity across the globe. Remote working has taught most of the world that employees can work from anywhere. This is mostly true of job types that are not restricted to desk roles. Staying in a particular city or country and working in another while also treating it as a vacation post-work-hours is attractive to over 52 per cent of travellers, according to a survey by booking.com.
The resurgence of COVID-19 cases globally has impacted the tourism industry, however, with the right measures and government support, countries can overcome the situation and promote safe tourism.