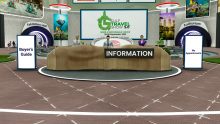 The fifth edition of the Gulf Travel Show (GTS) 2022 with Tourism Malaysia as platinum partner and German National Tourists Office GCC as silver partner successfully concluded yesterday after two very productive days of networking with an overwhelming response spearheading the recovery of tourism in the region. The theme in focus was sustainability hence buyers from across the Middle East were able to connect with exhibitors and conduct over 2000 one-on-one meetings attended by travel agents, tour operators, tourism boards, airlines, hotels, travel management companies, international agencies and media.
Yamina Sofo, Director of Sales and Marketing at the German National Tourist Office (GNTO), the regional office of GNTB, "It's been a pleasure being back at this year's Gulf Travel Show, and connecting with both our legacy partners, and brand new potential who we're looking forward to fostering relationships with. As part of the show, we have been presenting information on our #FeelGood campaign, which focuses on sustainable tourism and highlights ways to explore Germany's diverse culture, while reducing carbon footprint. We are also driving awareness of accessible tourism, through Tourism For All, which promotes the barrier-free options in Germany and offers a wide range of adventurous offerings for all. In addition, we're hosting a webinar on #FeelGood in the GTA auditorium, which we're excited for visitors to the show to come and witness. The GCC is one of our most important source markets, so it's great to be hear and further develop our understanding of the market, as well as present what we have on offer."
VIP buyer Zayeem Mohtisham, General Manager, Tour Planner reiterated, "We had a great experience at the Gulf Travel Show 5.0. Not only were the meetings and collaborations super helpful, expansive, and successful, but we can definitely see how incredible the future of travel looks like. When you add in the sustainable factor, so that our customers' needs to be ethical travels can also be met, it was just a fantastic value add in many ways. We feel empowered to bring sustainable and green options to our customers so that travel in the future isn't just enjoyable but also ethical and good for the planet. After all, ensuring the world's beauty makes sure our business can also succeed."
The special industry expert sessions started off at the auditorium with sustainability in hospitality – how much do we need to invest? Moderated by Iftikhar Hamdani Area General Manager Coral Beach Resorts Sharjah and Bahi Ajman Palace hotel, with panelists Roxana Jaffer – Thought Leader, CEO Sovereign hotels, Holiday Inn Dubai and Founder NGO – abc foundation, Margarita Huaca Sajons Engineer & Sustainable Development Expert – Business Development Energie GCC and John Arnold  Director Green-Good Eco-Tech FZCO. Managing Director of IHG IMEA Haitham Mattar shared his views on "Integrating sustainability in hospitality" whilst Sapna Aidasani Director PR and Marketing Pluto Travels moderated a session on "Sustainable tourism trends and attractions in the region" with Deepa Rajesh Director of Sales and Business Development Cozmo Travel, Varsha Pherwani Travel Counsellor Associate at Travel Counsellors and Marwa Abdulwahed Strategy and Marketing Director at The Retreat in Fujairah.
Gulf Travel Show's exclusive buyer programme gained the most traction during the show. Buyers appreciated the personalised services and enjoyed the competitive Leader Board. A lot of exciting giveaways kept the agents working till late evening.