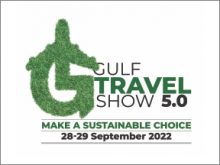 The fifth edition of Gulf Travel Show (GTS) will kick off on Wednesday 28th and Thursday 29th September 2022 under the theme of sustainable tourism. One of the most important factors post covid is sustainability in every single way. Participation in GTS assures you of the great responsibility held by the travel and tourism fraternity about their intent to reduce its carbon footprint. Gulf Travel Show (GTS) is the only event which was built in with a purpose. When it first started out just after the pandemic whilst most borders were still closed, it gave the travel, tourism and hospitality fraternity an opportunity to ensure that confidence is restored in the minds of the people passionate about the industry. It was also a tool which connected online GCC buyers with exhibitors from across the globe. The fifth edition or GTS 5.0 demonstrates its commitment to uphold its social responsibility to ensure less carbon emissions, yet bring all players to the table and learn and study the stakes, the many opportunities to make things right after a bout of almost two and a half years of pandemic era.
Sustainability has many layers to be addressed, it is no longer a word to be utilized and passed on as a mere CSR activity, hence it is a commitment to ensure that everyone has a part to play on mother earth. Starting off with airlines and their biofuel capabilities, hotels and their sustainable strategies, tourism boards which provide and maintain sustainable goals to ensure that the country or destination promoted will not be perturbed, undisturbed, instead leave in its natural state. When UNWTO announced its commitment on declaration of sustainability in the industry, players were getting there but just needed that extra push to achieve it final goal. Today, in the United Arab Emirates, single used plastics are not just frowned upon but made to pay for to ensure the environment is protected.
In GCC, the number of younger travelers has risen more than other parts of the world and these travelers are willing to spend extra to ensure that the environment is unharmed. As mentioned before travel agencies, hotels, tourism boards and transportation companies are making it their business to ensure they play their part in making it a sustainable environment. UAE is committed in a way that they have their own sustainable cities already built and active, Kingdom of Saudi Arabia and Sultanate of Oman are also enroute to building their very own sustainable cities. It was stated that at the recent visit by the US President to the Kingdom of Saudi Arabia, their efforts for 2030 Vision on sustainability were commended.
Partnering with GTS 5.0 will provide an opportunity to every individual to become a key player in achieving the goals of the future, a sustainable travel, and tourism and hospitality industries. SanJeet Director DDP reiterated, "Our commitment to ensure that the industry uses best practices for the betterment of the industry is top priority at this point of time with climate change making a huge impact in cities all across the globe. The recent bouts of heat waves which spread across Europe is an example and an eye opener as to what our responsibilities should be. It is time to reconnect with the industry, face to face virtually to ensure that we become the first responders committed not just to show and tell a destination but to ensure that the destinations are sustainable and would remain intact for a long period of time. This time we have our special segment dedicated to the Kingdom of Saudi Arabia with its vision 2030 and the many projects undertaken by them. The individual attention given to the buyers and exhibitors makes us unique and one of a kind. So, I would like to invite you this time to participate and lobby your support and commitment for the need of the hour, sustainability."
The event will continue focused on business meetings; the digital event will host buyers from across the region. After the success of the first four editions in November 2020, March 2021 and October 2021 and March 2022 Gulf Travel Show is back on popular demand in the last quarter of 2022.
All exhibitors and buyers will log-in to the GTS platform from either their office or the comfort of their home. Each exhibitor will be given their own private virtual booth with branding, videos and document broadcast facilities. These can be customized as per the individual requirements. Buyers can visit the virtual exhibition and individual stalls of all exhibitors and have personalised undisturbed meetings.