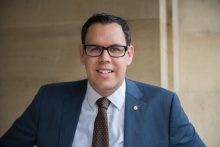 Starting from 26 June 2021, Switzerland opened its borders to fully vaccinated guests from the GCC countries, who will be able to enter the country again without having to undergo quarantine, nor testing, celebrating the improvement of the global pandemic situation, and answering calls of those who wait for this destination to open. All EMA and WHO approved vaccinations including Sinopharm will be accepted up to 12 months after full vaccination, with the exception of people entering from countries with worrying mutations of the virus who will still have to abide by the country's covid control rules.
Matthias Albrecht, Director GCC, Switzerland Tourism says: "We are extremely happy and feel quite emotional that we finally can go back to what we do best; to host guests in our magnificent country. And we believe with our beautiful nature and uncrowded boutique towns as well as wide-open landscapes, Switzerland is the natural choice for a post-Covid holiday. Now that borders will open, we can't wait to welcome each one of you!"
The news come as a relief for travellers eager to visit, or revisit, Geneva, one of the most vibrant cities in the world, where its European identity blends with a warming welcome to share its beauty, history, and culturally rich public life with everyone, embodied in the details of every site, monument and locally crafted object, harmoniously located at closed proximity to take them from one experience to another, adding multiple flavours and layers to their city-escape.
To explore Geneva from a unique and wholesome angle, the city offers an array of cruises spanning from one hour to a full day, designed to take visitors onboard an adventurous discovery of the city's most famous landmarks over the Rhône or Lake Geneva waters, where they can admire Mont-Blanc, the UN Building, or famous villas in addition to parks and gardens.
Among the most popular attractions to discover is the Geneva's Jet d'Eau, the fountain that once stood as the tallest in the world at 140 meters height retains its prestige thanks to its out-of-the-ordinary origin story. Dating back to the 19th century and considered a symbol of the city's ambition and vitality, Geneva's Jet d'Eau came to existence to solve an engineering problem, allowing the excess pressure build-up from the hydraulic plant at le Coulouvrenière to be released. To this day, a caretaker supervises the attraction, turning it on in the morning, and off again at night.
Enjoying Geneva while taking a tour around its roads can be achieved through its E-TukTuk service by Taxibike, an out-of-the-box transportation service merged with a diverse culinary experience, serving guests some of the most delicious international dishes while on the go. The Taxibikes' tables are designed to receive food and drinks freshly served from the city's famous restaurants, with a wide range of cuisines including Indian, Thai, Lebanese, Greek with many available Halal options.
A stop needs to be taken at Initium Atelier, where the concept of time is redefined through their immersive workshops and courses, which are designed to share the intricacy of luxury watchmaking, signed by refined Swiss craftsmanship and a legacy of a deep-rooted passion towards the mechanical work behind timeless masterpieces. Initium Atelier offers a selection of courses and workshops suitable for both individuals and groups, where visitors get to step in the shoes (or watches) of a watchmaking master, as they learn the disassembly and reassembly process of a movement in an original and fun way.
Geneva is a city with many facets, and as it opens its doors again to travellers, it aims to share the originality that has been carved onto its name through centuries of history and culture, while embracing the world with its diverse beauty, infinite possibilities and life-defining flavours to share with everyone.