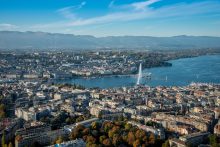 Geneva is all set to welcome travellers from the GCC and around the world, while still maintaining the necessary security measures to ensure the health and safety of all citizen and visitors. Geneva's restaurants, shops, markets, travel agencies, museums, libraries and sports facilities were reopened with precautionary measures being applied. The re-opening plan consists of different phases where with each entity in Geneva will gradually take a step closer to being fully operational. On June 8; Phase 3 will take effect and swimming pools, theatres, cinemas, zoos, botanical gardens, animal parks and mountain transport services will be open to the public again.
"We are optimistic about the current situation in Geneva and looking forward for more positive developments highlighted with the opening of airports for international flights soon," says Franck Romanet, Market Manager GCC & India at Geneva Tourism & Conventions Foundation. "With the restrictions in Geneva being lifted and having more airlines announcing their return flights and connecting the GCC to our city, we hope to see more and more tourists from the GCC region travelling again to their favourite destination, Geneva," Romanet continues.
Every year Geneva welcomes the highest numbers of travellers from the GCC compared to other Swiss cities. This is linked to Geneva's diverse offerings, natural scene and unique shopping opportunities which Arab travellers look forward to. The number of halal food restaurants and the hotels with Arabic speaking staff makes travellers from the Middle East region feel at home when visiting Geneva. Another important factor which makes Geneva an appealing destination for Arabs is its medical offerings which have a positive international reputation thanks to the number of clinics and hospitals available, the cutting edge technology deployed and the research institutes which pave the way to create new treatments and medicines for different conditions. Arab travellers usually head to Geneva to do regular check-ups, treat certain ailments or for recreation purposes.