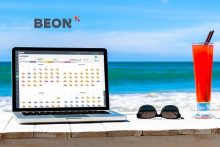 BEONx announced that it has become the first Revenue Management System (RMS) to incorporate a dedicated module for tour operation. The BEONx Tour Operation Module innovatively enables resort accommodations to optimize tour operation distribution. Vacation hotels play a vital role in the travel industry and rely primarily on tour operators to drive bookings. However, effectively managing is difficult due to the diverse budgetary and strategic requirements of each tour operator contract requirement and other segments pricing strategies.
For this reason, hoteliers struggle with the lack of a comprehensive revenue management tool, resulting in the loss of inventory control, the possibility of human error from manual processes, significant time consumption due to manual reports, and profit erosion as a result of a limited focus on Total Revenue and reliance on legacy systems. These obstacles hinder the industry's effectiveness and profitability.
Cayetana Fernández, VP of Product at BEONx, said: "We are thrilled to introduce the BEONx Tour Operation Module, a revolutionary solution designed to resolve the unique challenges vacation hotels face in optimizing due to their heavy reliance on tour operators. Resorts face challenges in optimising distribution and outperforming tour operation competitors. With our new BEONx Tour Operation Module, hotels will effectively manage its inventory by leveraging advanced systems and AI algorithms, empowering resorts to attract direct reservations, increasing efficiency, and achieving long-term profitability in the dynamic hospitality industry."
BEONx's TourOperation Module is poised to revolutionise the way vacation hotels manage their tour operations. This innovative solution addresses the intricate challenges faced by vacation hotels in managing tour operators (TOs) efficiently and profitably.
Simplicity in complex revenue management: Intuitive tools to optimize room pricing across different outlets and points of sale, providing a visual summary of contract conditions and sales status.
Cohesive inventory control: The module allows for controlled allotment management, incorporating release dates, cancellation monitoring, and adherence to contract conditions.
Strategic forecasting: Efficiently forecast transient and group demand based on allotment filling, enabling smarter decision-making.
Time & cost savings: Automation and streamlined processes reduce manual efforts, freeing up staff in group departments.
Empowered revenue management: With pricing managed seamlessly, the revenue manager can focus on strategic decisions and enhance profitability.