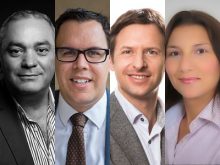 MARHABA Europe is set to return to Dubai this month with a delegation of almost 60 exhibitors from across Austria, France, Germany and Switzerland, presenting a united tourism front ahead of this year's Arabian Travel Market. The two-day event, which will take place between 14-15 May at W Dubai, The Palm, will host close to 80 travel professionals from the GCC, Israel, Jordan and Lebanon who will meet with the European exhibitors.
The schedule of B2B meetings aims to strengthen ties and encourage business between the countries across the travel sector, inviting attendees to interact with European airports, shopping facilities, local tourist boards, hotels, destination management companies, and transport companies keen to network with local representatives and to bridge communication between the regions.
MARHABA Europe will also host a Gala dinner on 14 May which offers a much welcome opportunity to network with industry professionals, with Ambassadors to the UAE from Austria, France, Germany and Switzerland set to be in attendance.
Yamina Sofo, Director of Sales & Marketing, German National Tourist Office (GNTO), the regional office of German National Tourist Board (GNTB) said, "As one of our top three overseas source markets, the GCC is vital for our restart activity in encouraging travel to Germany. MARHABA Europe's return provides us with an ideal opportunity to reengage and further develop B2B partnerships between the two regions which will support our continued efforts to position Germany as a destination of choice.
Matthias Albrecht, Director GCC of Switzerland Tourism commented, "When speaking to our GCC guests, we really feel that they are desperate to travel again to Switzerland and Europe; therefore, MARHABA Europe is a fantastic way to reconnect tourism professionals with each other, just at the right time to accommodate the desires of our customers."
Robert Groeblacher, Director Middle East & South East Asia of Austrian National Tourist Office cited, "Our four countries are among the most popular premium destinations by travellers from the Middle East. We are very proud to join forces again to connect the major touristic players in our countries with the local travel trade."
Karim Mekachera, Regional Director Middle East & Turkey of Atout France commented: "First non-virtual event since the beginning of the pandemic, we, at Atout France, are very pleased to join our Europeans colleagues at Marhaba Europe to meet, exchange and network with the regional travel trade and start devising together the post-covid tourism new era."