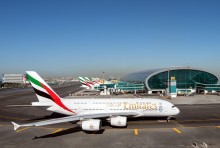 Emirates announced a US$ 16 billion (AED 58.7 billion) deal for 36 additional Airbus A380 aircraft, with 20 firm orders and 16 options. Emirates' A380 fleet operates both GE and Rolls-Royce engines, and the airline is evaluating engine options for its latest A380 order. The additional Airbus A380s will be delivered to Emirates from 2020 onwards. Together with the airline's 101-strong A380 fleet and its current order backlog for 41 aircraft, this new order brings Emirates' commitment to the A380 programme to 178 aircraft, worth over US$ 60 billion.
His Highness Sheikh Mohammed bin Rashid Al Maktoum, Vice President and Prime Minister of the UAE, and Ruler of Dubai, said, "This deal reflects Emirates' confidence in shaping the future and its commitment to advancing Dubai's vision to grow further as a world-class destination and aviation hub."
His Highness Sheikh Ahmed bin Saeed Al Maktoum, Chairman and Chief Executive, Emirates Airline and Group signed the MOU with John Leahy, Chief Operating Officer Customers, Airbus Commercial Aircraft at the airline's headquarters in Dubai.