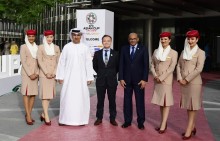 Emirates Holidays has partnered up with the Asian Football Confederation (AFC) to become the official tour operator for the AFC Asian Cup UAE 2019. The 17th edition of the continent's prestigious football tournament will take place in the United Arab Emirates between January 5, 2019 and February 1, 2019.  Through the partnership, Emirates Holidays offers a broad range of excellent value packages to football fans traveling to Abu Dhabi, Al Ain, Dubai and Sharjah to support their teams. Each package includes match ticket(s), accommodation and return flights with Emirates Airline.
Robin Parry, Vice President, Emirates Holidays, said, "We are thrilled to become the official tour operator of the AFC Asian Cup UAE 2019. Starting from today, supporters can seamlessly book match ticket, flight and accommodation with Emirates Holidays and enjoy the excellent travel experience our award-winning airline and reputable hotel partners offer. We see exciting opportunities for the company in sport tourism and continue to seek ways to accommodate the growing demand. We look forward to welcoming our football fan customers in the UAE."
Dato' Windsor John, General Secretary, Asian Football Confederation, said, "Asian football continues to make giant strides on the world stage and the remarkable growth and stature of the AFC Asian Cup exemplifies the undeniable progress of football in the Continent. Emirates have been a long-standing partner of the AFC and we would like to thank them for their firm belief in the development and ever-improving proposition of Asian football.