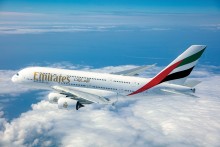 In response to an increased travel demand during autumn school holidays, Emirates today has announced it will operate its A380 between Dubai and St. Petersburg, temporarily replacing the Boeing 777 aircraft, which is currently operating on the route.
From October 25, 2018  to October 29, 2018, flights EK 175/176 will be operated by Emirates A380 between Dubai and St. Petersburg's Pulkovo International Airport, offering 14 Private Suites in First Class, 76 fully flat-bed seats in Business Class and 429 seats in Economy Class. Flight EK175 will depart from Dubai at 15:45 and arrive in St. Petersburg at 20:50, while the return flight, EK176 will leave St. Petersburg at 23:55 and arrive in Dubai at 06:55 the next morning.
This will be the first time an A380 has operated to St. Petersburg, demonstrating the extensive work and preparation the airport has undertaken to receive the double-decker aircraft.
During this period, passengers departing from St. Petersburg will have the opportunity to experience a wide range of tourist and business destinations on the Emirates network, including Mauritius, Bangkok, Singapore, Hong Kong, Sydney, Melbourne and others.
Through its partnership with flydubai, Emirates also provides customers in St. Petersburg with convenient and seamless access to a number of destinations beyond Dubai, including Zanzibar and Kathmandu.