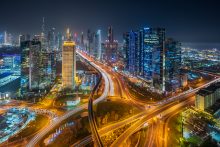 Dubai World Trade Centre will be hosting over 100 events business and consumer events in the last quarter. It will include recognised meetings, exhibitions and conferences, as it gears up for what is anticipated to be one of the city's busiest events seasons, reinforcing Dubai's position as a global hub for business tourism with over 100 business and consumer events spanning vital sectors including technology, sustainability, food and beverage, healthcare, green economy, among others over the last quarter.
Mahir Abdulkarim Julfar, Executive Vice President at DWTC, said: "DWTC plays a crucial role in furthering the emirate's position as the global Meetings, Incentives, Conferences, and Exhibitions (MICE) capital. We are witnessing substantial growth of flagship events like GITEX Global, ArabLab+, Big 5 Global, World Radiocommunication Conference among others and are equally excited to host new events at the venue. The upcoming events season will offer an unrivalled opportunity for exhibiting companies, participants, and the business communities at large to network and collaborate, provide access to global markets, while facilitating foreign investments into the emirate and contributing to the ongoing growth of Dubai as a business tourism destination in line with Dubai's Economic Agenda (D33)".
September opens with Plastics Recycling Show ME, Sleep Expo, ME Foam & Polyurethane Expo, Adhesives Sealants, and Bonding Expo ME from (5 – 7 September), followed by Gulf Bride Show (13 – 17 September), Frozen Musical Celebrations (16 September), Sign and Graphic Imaging ME Exhibition, Connecting Trade Worldwide (18 – 20 September), the Annual Dermatology Conference and Exhibition MEIDAM (22 – 24 September) and the Forex Exhibition (26 – 27 September).
The leading platform for the laboratory and analytical industry ArabLab+ will take place between (19-21 September) and is set to host more than 10,000 delegates and 850 exhibitors over three days.
Ru'ya (Careers UAE Redefined), the key Emirati youth empowerment event, organised by DWTC will take place between (19 – 21 September). Serving as a recruitment, skills development, and networking forum, it aids companies in meeting their Emiratisation goals.
The largest international trade show for the automotive aftermarket in the Middle East and beyond, Automechanika Dubai will take place between (2 – 4 October), where exhibitors from over 55 countries will present more than 2,000 products.