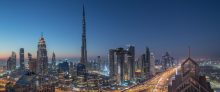 Dubai's Department of Tourism and Commerce Marketing (Dubai Tourism) hosted a virtual town hall meeting for industry stakeholders, providing an overview of the tourism sector and global travel updates and trends, as well as insights into source markets, initiatives, campaigns and events designed to highlight Dubai's position as the destination of choice for families in the summer.
The Summer 2021 Virtual Town Hall, presided by Issam Kazim, CEO of Dubai Corporation for Tourism and Commerce Marketing (Dubai Tourism), is part of the regular top-level industry engagements initiated by Dubai Tourism to ensure the entire industry is seamlessly aligned with the marketing communications and campaigns dedicated to tourism growth.
The meeting, attended by over 600 key executives from the hospitality, travel and attractions sectors, reviewed the progress made by the industry since the reopening of the city to domestic tourism in May 2020 and international tourists in July 2020. It also reviewed the strong measures in place to safeguard the health and well-being of residents and visitors.
During the meeting, it was noted that the wide ranging steps taken by Dubai to successfully manage the pandemic resulted in the World Travel and Tourism Council (WTTC) awarding the emirate the 'Safe Travels' stamp. Dubai also launched its own compliance programme, the DUBAI ASSURED stamp to certify and recognise establishments across the tourism ecosystem that have complied with all safety protocols. An ongoing countrywide vaccination campaign has also placed the UAE among the top five nations globally in terms of overall vaccine rollout.
The Town Hall provided an insight into Dubai Tourism's direction and plans for Summer 2021, to enable stakeholders to leverage and benefit from the various marketing initiatives and ensure the whole city is aligned and able to collectively showcase Dubai as a multi-faceted must-visit family destination.