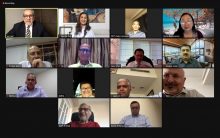 Virtual dinner was hosted by the Department of Tourism in Philippines with trade partners from the GCC. This informal gathering was a networking exercise to understand the current GCC market and the way forward. As GCC is way ahead of the rest in terms of vaccination drive, they are looking at better summer travel. SanJeet Director, Durga Das Publications, Market representative, for Middle East shared the current realities in the Middle Eastern market, followed by Daks Gonzales Head Office of Product and Market Development, Philippine Department of Tourism – Middle East.
Gracing the evening ,Verna Esmeralda C. Buensuceso, CESO III Assistant Secretary for Product and Market Development Department of Tourism from the Department of Tourism in the Philippines expressed her gratitude for taking time off to attend the event and enjoy the Filipino cuisine especially for the trade partners. She reiterated the importance to understand the market at present and shared the various initiatives taken by the government of Philippines to ensure safety and rebuild the confidence of the travellers especially from the Middle East.
Leading CEO's from the Middle East attended the event with Nasir Jamal Khan – Al Naboodah Travel & Tourism Agencies LLC, Jamal Abdul Nazar – Cozmo Travels,  Asim Arshad – Orient Travel & Tourism Agency,  Arshad Munir – SATA, Tarique Katri – Seera, Deepak Rawat – Make My Trip, V. Jayaram – Sharaf Travels, Mathew D'Costa – Dnata, Sumit Archarya – BCD Travel, Manu Mehrotra – Al Tayer Travel Agency, Suresh Ahuja – Trans Arabian Air Travel, and Sai Rattan – SNTTA
The CEOs presented some very interesting facts about the expectations especially from the side of the locals in UAE and KSA as key markets aimed by DOT Philippines. Verna Esmeralda C. Buensuceso, CESO III from the Department of Tourism in the Philippines reiterated the many concerns and opening the country in different phases once the vaccination drive picks up which was one of the main concerns by travellers. The constant changes of rules and regulations and the need to keep the travellers up to date is another area that DOT Philippines will be working on she concluded.