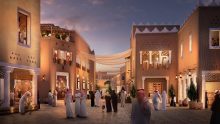 Diriyah Gate Development Authority (DGDA) officially unveiled its vision for Diriyah Square, the commercial heart of its 190 Billion SAR [50 Billion USD] Diriyah giga-project on the edge of Riyadh, Kingdom of Saudi Arabia – scheduled to be open by 2024. Bringing together wonderful experiences for young and old, Diriyah Square is the gathering place  of the Diriyah masterplan hosting 450+ of the world's finest global retail brands, complemented by an additional 100 authentic local Saudi artisan souks. The district will deliver a complete lifestyle offering; from leisure and entertainment, ultra-luxurious hotels, and places to work and live – all within an iconic destination steeped in heritage, culture, and promise.  Diriyah is the Birthplace of the Kingdom, centered around the UNESCO World Heritage Site of At-Turaif, and is the site of the First Saudi State. Diriyah Square provides an uncompromisingly bold destination, breaking the status quo and setting it apart from the traditional retail competitors. Looking beyond the vision of Diriyah Square,  DGDA will partner with leading international brands to ensure their expectations are exceeded.
Diriyah Square's vision rests on three key values: Authenticity, Future and Place.
AUTHENTICITY – The Diriyah Square project will faithfully apply timeless Najdi-inspired architecture and design principles, which no other project of this scale has ever done before. This will ensure the project is immediately recognizable and provides a distinct proposition for the region while remaining true to the Kingdom's heritage and vision.
FUTURE – Diriyah Square is a bold and ambitious project – creating an exciting future whilst being anchored by the past. Underpinned by state of the art infrastructure, above and below ground, a thriving Najd village will deliver an urban, walkable city set to be a legacy for generations to come.
PLACE – Placemaking is central to the success at Diriyah Square, and the project is bringing together wonderful opportunities for all in a uniquely liveable place. It presents everything from a predominantly open-air, authentic streetscape of inviting laneways, open-air courtyards, and souks, to the delivery of a thriving  day and night-time economy.  It will be home to a  diverse range of extraordinary experiences where locals and travellers will make their very own life long memories.
With construction well underway, scheduled to open in 2024 and situated 15 minutes north-west of Riyadh's city centre, the Diriyah Square district will be steeped in culture and heritage. The long-term goals and expectations of the project aim to celebrate the local community, elevating the social, cultural, and historical context, connecting with the roots of the Saudi heritage, and creating solid foundations on which to build the best possible future for the community.
Jerry Inzerillo, Group CEO, DGDA commented: "Since its foundation in 2017, DGDA has been attracting the world's most experienced real estate professionals to Saudi Arabia and Diriyah for the project. The development supports the Kingdom's Vision 2030, a roadmap drawn up by His Royal Highness Crown Prince Mohammed bin Salman to create a vibrant society and thriving economy. Diriyah Square has crafted  a collection of the finest culture, hospitality, retail, leisure and entertainment assets. The project is set to become one of the world's greatest gathering places, all in the vibrant heart of authentic Diriyah."
Jonathan Timms, President of Diriyah Development Company, a subsidiary of DGDA, added: "Diriyah Square is one of the most extraordinary projects being developed in the world today, and we are thrilled to cultivate such a compelling opportunity for retailers, brands and operators to call Diriyah Square home. We are going the extra mile to ensure we provide the best location for ambitious brands, collaborating to create exceptional customer experiences. This one of a kind  project  will present over 400 of the finest retail brands from across the Kingdom and around the world in an authentic and intimate environment of streets and squares, whilst we protect and celebrate the distinctive character of Diriyah."
Construction on Diriyah Square commenced in 2019 and it is on schedule to be completed ahead of a 2024 opening.