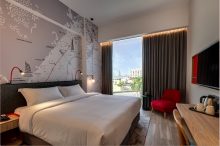 Deutsche Hospitality continues to establish its growing portfolio in the Middle East with the opening of the IntercityHotel Dubai Jaddaf Waterfront on 25 November 2021. On the occasion of this opening, the hotel group joined forces with the hotel management company Valor Hospitality Partners. The IntercityHotel Dubai Jaddaf Waterfront thus becomes Deutsche Hospitality's first franchised hotel in the Middle East. It will offer benefits such as a buzzing, centralised location and award-winning service to both leisure visitors and business travellers.
"The Middle East has always been an exciting and ever-growing market," says Marcus Bernhardt, CEO Deutsche Hospitality. "We are already operating 19 properties in the Middle East and will continue to expand the presence of our brands in the future. Establishing our first franchised property with such an accomplished partner as Valor Hospitality Partners opens up further opportunities for us in this regard as well."
Situated on Al Jaddaf Waterfront, Dubai, the hotel features a total of 138 Superior and Premium rooms. The roof terrace will feature a pool complex complete with an AquaLounge and a dedicated children's pool area. Further facilities include gyms, contemporary style restaurants and a Bistro Lounge. The property's striking interior design concept bears the signature features of Italian architect Matteo Thun, as can be seen at all latest generation IntercityHotel properties across the world. The uniquely placed hotel also allows guests to choose their own means of travel with easy and efficient access to the Dubai Metro, main roads, or boat rides across the Creek.
Siegfried Nierhaus, Vice President Middle East, Deutsche Hospitality, comments: "We are tremendously excited to introduce the IntercityHotel Dubai Jaddaf Waterfront. Located at the heart of Dubai, nestled between the historical landmarks of the city and iconic Downtown destination, this property commemorates Deutsche Hospitality's commitment to providing premium personalised experiences internationally, and is set to become a local favourite and a coveted hotel for tourists."
The IntercityHotel Dubai Jaddaf Waterfront joins other IntercityHotels in Oman and Saudi Arabia as the fourth hotel to be operated under the brand in the Middle East.