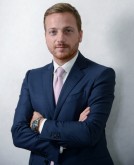 Desert Adventures, part of the Kuoni Destination Management Specialists division, has appointed Discover The World-Germany as its representative in the country. The appointment is part of an overall strategy by the Middle East's leading Destination Management Company of strengthening its foothold in key source markets such as Austria, Switzerland and Germany, and further enhancing its business performance.
With ITB Berlin scheduled to take place on March 8-12, 2017, Desert Adventures and Discover The World-Germany will be working closely on a persuasive sales pitch to existing customers and prospective clients during the event.
"The places within which Desert Adventures operates – the UAE, Oman, Jordan and Qatar – have remained as among the most sought-after destinations for German-speaking guests," said Fabio Prestijacopo, Head of Sales & Marketing, Desert Adventures Tourism. "We are therefore delighted to have appointed Discover The World-Germany as our representative in this market and look forward to making such partnership work to the advantage and benefit of customers."
For her part, Margit Schwarz, Director, Discover The World Germany commented: "We are pleased to have been provided this opportunity to further develop Desert Adventures' business in the leisure and group segment. Our synergies will certainly bring about a rejuvenated feeling of enthusiasm among customers looking to travel into any of Desert Adventures' destinations because they know that they will be taken care of by two of the most trusted brands in the travel & hospitality industry."
Discover The World Germany is known for its market-leading and innovative sales and marketing solutions aimed at helping solve market expansion challenges to a diverse client base. The combined strength of talented local travel professionals and existing online technologies enable clients to increase profit, open new markets, retain and grow relationships, solve problems and service needs.