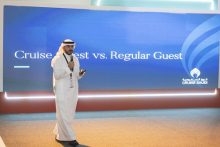 Mashhour Bashan the Executive Director for Travel Experiences, on (designing tours and experiences for cruise passengers) explained that "the cruise sector is a new industry for the Kingdom, it provides specific services, and our role in Cruise Saudi is to develop and enable the private sector. This workshop is one of several workshops on developing the sector to attract 1.3 million passengers by 2035".
Participating in the recent Saudi Tourism Forum 2023, held in Riyadh 100% Public Investment Fund-owned business,  Cruise Saudi shared the latest work hand in hand with ministries and regulatory authorities to build the offshore and onshore cruise ecosystem with the aim of positioning Saudi as a premier global cruise destination. Throughout the Forum, Cruise Saudi met with a number of public and private sector companies – an opportunity to update key industry contacts with the news and developments since Cruise Saudi launched in 2021. From the expansion of Saudi Arabia's cruise infrastructure to the two successful completed seasons, Cruise Saudi's rapid expansion in this vital sector has worked alongside the Kingdom's Vision 2030 as an engine to drive the development of tourism, and to transform the Kingdom of Saudi Arabia, with its various regions and natural, historic and heritage treasures into a unique and distinctive destination on the global cruise map.
Engineer Fawaz Farouqi praised the Forum and the fruitful cooperation of all public and private parties involved in the Tourism System in providing an exceptional experience for tourists visiting the Kingdom, thus reflecting their contribution to achieve Vision 2030 goals and broaden the horizons of the Saudi cruise sector.
Cruise Saudi also organised an awareness workshop, delivered by Mashhour Bashan, the Executive Director for Travel Experiences, on (designing tours and experiences for cruise passengers), where he focused on introducing the cruise industry, and the importance of designing tours that meet the needs of tourists, the basic requirements in tourist destinations, expectations, challenges and the opportunities available in this new industry in the Kingdom of Saudi Arabia.