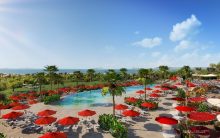 Club Med announced its return to Spain after over 20 years, with its new resort, Club Med Magna Marbella. The property, which will be nestled at the foot of the Sierra Blanca Mountains, will open its doors to guests on May 14, 2022. Conveniently located near Spain's south coast, in the region of Andalusia, which is often referred to as "the garden of Europe", Magna Marbella is just a 20-minute walk from both sandy Mediterranean beaches and Marbella's city centre. It is also just a one-hour drive from Gibraltar, Ronda, and Malaga or two hours from Granada, Seville, and Cadiz, making it the ideal base to explore the rich Arab-Andalusian history and natural wonders of the region, including the Doñana Natural Park and Caminito del Rey. Club Med Magna Marbella boasts 14 hectares of lush garden, five swimming pools including a family waterpark and adult-only Zen Zone, two restaurants, Suenos and the Tierra Gourmet Lounge, and three bars for guests to try local food and drinks.
The resort will also offer Club Med's world-class children's clubs for all ages (from 4 months to 17 years of age), where kids will be able to enjoy Andalusian inspired art and culture activities. The Family Fun Zone will feature water games, a playground, mini-golf and a zipline with Magna Marbella offering a wide array of activities, including golf, archery, tennis, flying trapeze, and more. Six padel tennis courts will be available within the resort's grounds.
For those looking to relax and unwind, a wellness area with 14 treatment rooms, including a double indoor-outdoor relaxation room and steam room, will feature treatments at Spa by CINQ MONDES. Guests will also be able to enjoy fresh fruit juices at the Sierra Blanca bar at the adult-only Zen pool.
Estelle Giraudeau, Managing Director of Club Med UK and Northern Europe comments, "After more than twenty years, we're looking forward to bringing the Club Med brand back to Spain with the launch of Club Med Magna Marbella. The resort offers the perfect blend of luxury, experiences and cultural adventures for both families and couples alike."
Club Med's upcoming sale will be live from October 12th to 14th, guaranteeing 15% off all resorts, including Magna Marbella, for holidays booked up until October 2022. Contact your nearest travel agent for more information.