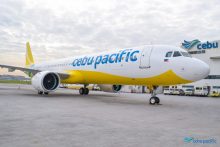 Cebu Pacific reaffirms its full commitment to speed up its digital transformation, in line with its staunch resolve to make travel more convenient and accessible amidst the COVID-19 pandemic. CEB has taken great strides in continuously improving overall customer experience by enhancing its online booking, check-in, manage booking, as well as CEB's virtual assistant named 'Charlie the chatbot'. The carrier has begun ramping-up its customer-first initiatives through digital innovation in 2017—making CEB one of the first airlines in Asia to invest in an integrated facility and technology for social intelligence and customer engagement.
"We are glad to have started our digital transformation journey even before the pandemic because we have come to rely on it in this new normal environment. We continue to prioritise the safety and convenience of our passengers, that is why we have accelerated our digital efforts to support contactless and self-service processes," said Candice Iyog, Vice President for Marketing and Customer Experience, CEB.
This has spurred CEB ahead of everyone else in the Philippine aviation sector in terms of keeping pace with necessary changes when the COVID-19 pandemic struck. The vital digital transformations and systems it had adopted early on—including bolstering its social media channels manned by the CEB Customer Care Agents—helped in addressing passengers' needs amidst the pandemic.
Iyog said, "Rest assured Charlie, along with our Customer Care team, are online 24/7 to assist everyone. We continue to enhance existing processes as we remain committed to empowering customers and ensuring access to the information they need anytime, anywhere, without having to call the hotline or go to a ticketing office."