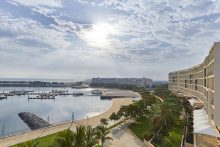 Barceló Mussanah Resort unveils the launch of its eco-friendly guest programme, VIP of The Day; in partnership with One Tree Planted, a non-profit organisation focused on global reforestation. Aligning with its The Future is Green initiative, Barceló Mussanah Resort will plant over 500 trees by the end of 2023 in the Sultanate of Oman, as part of its innovative programme.
Mussanah's flagship beach resort invites one VIP guest of the day to create a positive impact on their environment. The lucky guest will receive a welcome gift upon their arrival at the stellar beach property; planting an agroforestry tree on their behalf from One Tree Planted. The eco-friendly guest will also receive an e-certificate for their efforts and contribution towards preserving the environment. As part of The Future is Green initiative, the programme enhances the property's commitment to promoting sustainable tourism in the Sultanate of Oman.
The VIP of Day programme will support Barceló Mussanah Resort's commitment to enhance carbon sequestration, improve soil and water conservation, reserve carbon, and moderate climate change by providing shade. Furthermore, the planted trees will also offer a natural habitat to increase wildlife and refine the land's capacity to weather climate change.
Dermot Birchall, General Manager of Barceló Mussanah Resort, says, "Partnering with One Tree Planted and launching our VIP of The Day programme takes us one step further on our combined journey to help preserve the planet. This represents a significant step forward in our promise to reduce our impact on the environment and engage with our community in such an impactful endeavour. By gifting a tree to our guests, we welcome them to be a part of our commitment, raising awareness and inspiring others to take action in support of a greener future."
In a testament to its commitment to the environment, Barceló Mussanah Resort has committed to funding the planting of 500 trees in 2023, supporting projects in Africa contributing to the AFR 100 Initiative. The humbling project will support the restoration of African land, simultaneously creating jobs, providing training, and supporting communities with improved living standards, including increased incomes and easy accessibility to food.
"We appreciate the support of Barceló Mussanah Resort and all the great work we will be able to do as a result of this partnership. Through their, The Future is Green initiative we will be able to plant more trees in Africa in support of AFR100 and further our goal of global reforestation", said Ashley Lamotagne, Senior Partnership Marketing Manager, One Tree Planted
In 2022, One Tree Planted has planted approximately 52,793,657 trees worldwide, restoring over 97,769 hectares of land across 327 projects in 78 countries. The non-profit organisation has created over 2,400 jobs and supported over 50,500 families across the world. With over 32,000 volunteers engaged through planting events, One Tree Planted has also employed 26,254 women in reforestation efforts worldwide. Since its founding, One Tree Planted has planted 91,543,657 trees with 463 planting partners engaged in 78 countries.
Barceló Mussanah Resort's eco-partnership with One Tree Planted, aligns with Barceló Hotel Group's vision to build a better tomorrow by creating a positive impact in local communities and the environment, under the Group's Barceló Responsible initiative. The resort also plans to establish a carbon composting facility to convert garden waste into fertilizer, and collaborate with WAKUD, the first biodiesel plant in Oman that develops high-quality fuel from recycled cooking oil to amplify de-carbonization by recycling waste materials. The property has also incorporated the use of 96 solar panels to heat water across all room categories. In 2021, Barceló Mussanah Resort also worked in partnership with Oman Sail and the Youth World Championships to plant 50 native fruit trees in the resort's orchard and planted an additional 50 coconut and date palm trees by the end of 2022.