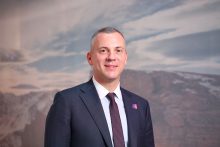 Azerbaijan Tourism Board (ATB) kicked off its participation at Expo 2020 Dubai this week (Sunday) with an event dedicated to encouraging travellers to take another look at what the country has to offer as the 'new normal' emerges for world travel. Taking place at the Azerbaijan's nature-inspired pavilion in the Sustainability District, the event provided a unique opportunity to discover how the country has re-focused its efforts on the expansion of its burgeoning sustainable tourism industry.
Inspiring travellers to turn over an eco-friendly leaf was the overarching message conveyed, with key spokespeople, including Florian Sengstschmid, Chief Executive Officer of ATB, underscoring how sustainable tourism policies are crucial to future-proofing the country's tourism industry and boosting Azerbaijan's COVID-19 recovery.
"Borne out of the disruption caused to the tourism industry last year, Azerbaijan has sought to embrace the new opportunities presented by people looking to travel more safely. We are extremely fortunate that our climate and diverse landscape make socially-distanced travel experiences possible, celebrating the very best of what the country has to offer. In doing so, we have been able to unlock the full potential of Azerbaijan's diverse natural and cultural offerings, as well as the great talent and resilience of its people", said Mr. Sengstschmid.
"Expo 2020 Dubai provides an ideal platform to share our long-term commitment to sustainable tourism and innovation in the heart of its Sustainability District, and we look forward to welcoming new and returning Middle East travellers to see a new side of Azerbaijan."
Among many sustainable tourism offerings introduced at the event, Slow Food Travel was emphasised with a key focus on inspiring visitors to indulge in the rich diversity of locally-grown food. As one of ATB's most prominent social initiatives, this has been designed to enable travellers to get first-hand experience working with farmers and producers whilst enjoying overnight accommodation in rural guesthouses.
In line with this, guests at the event were treated to an interactive culinary masterclass with leading Azerbaijani chef and the co-founder of the Azerbaijan Culinary Specialists Association, Orkhan Mukhtarov. Guests sampled a selection of specialties, prepared with Rushanka onion, Ata-baba hazelnuts, Caucasian buffalo yoghurt and other enriching local produce included in the special created from the Ark of Taste – an international Slow Food catalogue listing products that might disappear soon.
This is just one of a number of initiatives designed to help stimulate tourism growth to pre-pandemic levels.  In 2019, the number of international travellers arriving in Azerbaijan reached a record number of 3.2 million – more than 10 per cent of which came from the Middle East. Since the gradual reopening of international borders from June this year, Azerbaijan has seen the arrivals from the region increase steadily, particularly from the United Arab Emirates and Qatar.
Currently, citizens and permanent residents of 42 countries can travel to Azerbaijan by air, including the United Arab Emirates, Bahrain, Qatar and Saudi Arabia. With restored connection via the Azerbaijani Airlines, Flydubai, Air Arabia and Qatar Airways, passengers aged over 18 can now fly to Azerbaijan, submitting both a COVID passport (an official document issued by the relevant country on complete vaccination or recovery from COVID-19) and a negative PCR test taken within 72 hours before the flight, while for minors only the latter needs to be provided within the indicated period of time.