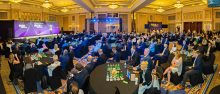 Over 120 hospitality leaders and tourism experts will address the industry's hottest topics at the much-anticipated Future Hospitality Summit (FHS), which debuts at Madinat Jumeirah in Dubai by bringing together over 900 hospitality investment decision makers from 19 to 21 September. This year Future Hospitality summit unites the investment communities of the Arabian Hotel Investment Conference (AHIC), Global Restaurant Investment Forum (GRIF) and African Hospitality Investment Forum (AHIF) under one roof for three days of debate, initiatives and exciting industry announcements to highlight – and celebrate – the key role of the region's hospitality and tourism sectors.
Featuring a topflight line up of presentations and insight from government leaders, hotel investors, owners and developers, and industry experts, the FHS programme hones in on sustainability, technology, talent, investment, innovation, the continued post-pandemic recovery and more – all under the main event theme of Lead the Change. There's also a Franchising Workshop, Startup Den, regional-specific sessions that bring Africa and Asia under the spotlight, and the finals of the 2022 Sustainability Hospitality Challenge, a global competition for students to turn their ideas for innovation and sustainability into a reality. Hosted by Jumeirah Hotels & Resorts and co-organised by The Bench and MEED.
"We are delighted to welcome the region's most respected and experienced hospitality figureheads to the FHS programme, which has been carefully crafted to address key focus areas, challenges and trends for the hospitality industry. The investment communities of AHIC, GRIF and AHIF all feature in our action-packed agenda, bringing a wealth of knowledge, expertise and insight to this prestigious event," said Jonathan Worsley, Chairman of The Bench.
"With a focus on embracing and leading change, FHS brings a wide and diverse range of opportunities for delegates to discuss, contribute and learn, with four incredible stages, eight networking events and an array of award presentations. We look forward to strong debate, breakthrough ideas and exciting news at the region's flagship hospitality industry platform,' he added.
The FHS agenda features more than 40 sessions in a range of formats, including main stage presentations, panel debates, interviews and breakout sessions. There also eight networking sessions, including the FHS opening reception, hosted by Jumeirah, where delegates will be taken on a curated food and beverage journey by the hospitality group's award-winning chefs, showcasing the Arabian hospitality that Jumeirah is known for.