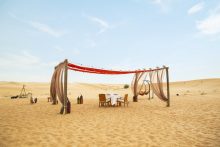 Arabian Adventures to launch 'The Perfect Evening by Arabian Adventures', a new, high-end dining experience in the Dubai Desert Conservation Reserve (DDCR). Known for its award-winning range of desert safaris, city tours and ongoing commitment to conservation in the DDCR, Arabian Adventures is revealing a luxurious new camp in a private 'cove' amidst the dunes of this spectacular, pristine reserve – set to provide a unique, once-in-a-lifetime desert voyage, with a front-row seat to the stars. The experience includes pick-up and drives into the DDCR in a premium vehicle with an Arabian Adventures expert safari guide, sundowners with canapes at a perfect sunset stop, and premium dining at the newly-designed camp with a private chef and waiter, with some traditional Arabian surprises for guests along the way.
Justine Thomas, General Manager at Arabian Adventures, commented, "This new, high-end private dining experience in the Dubai Desert Conservation Reserve represents a first for Arabian Adventures, as we continue to evolve and extend our product offering to meet the needs and wants of our customers.
"We have witnessed a surge in requests for guests seeking a refined, private dining experience in the Dubai desert. As such, our team of local experts is taking the 5-star restaurant experience you can expect from this incredible city and are placing this into an idyllic setting in its surrounding desert within a new luxury retreat, with a personal waiter and private chef on-site.
"Match this premium dining event with the privacy and beauty that can only be found in the DDCR, and we believe that we are introducing a new, must-do Dubai experience, for local residents and international travellers alike."
Thomas concluded, "Complete with a lantern-lit path leading to the private camp, and a decorative well adding the sound of running water reminiscent of an oasis, through its premium candle-lit desert dining experience, Arabian Adventures is now providing one of the most unique and romantic settings to be found in Dubai. This also makes for an incredible place for photography to capture the most beautiful of our desert surroundings. "