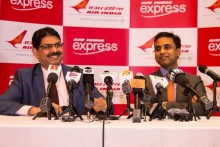 The national flag carrier of India, Air India announced the launch of the second Dreamliner from Dubai to Kochi from February 1, 2017. AI 934 will be a daily operation with departure from Dubai at 1330 hours arriving in to Kochi at 1850 hours. The return from Kochi will be AI 933 departing at 0915 hours from Kochi and arrive in Dubai at 1200 hours. The press briefing took place at the Consulate of India presided by Consul General of India H.E. Anurag Bhushan and Melvin D'Silva, Regional Manager Air India Middle East and Africa. The Consul General reiterated that last year the national carrier has seen an increase in capacity and the regional connectivity has improved quite well. H.E. acknowledged the services rendered by Air India especially at the hour of need to evacuate at emergencies or to carry the mortal remains free of cost etc.
Melvin D'Silva, Regional Manager Air India Middle East and Africa stated the reason to conduct the press briefing at the Consulate is due to the reason that His Excellency and the consulate has rendered unstinted support. "When one of the aircrafts had to land in Travzone Turkey in the middle of the night, I contacted the Consul General H.E.Anurag Bhushan at 3am and he very quickly provided the necessary arrangements through the Embassy of Turkey. Therefore, we continue to work very closely with the Consul and the team," stated D'Silva.
He further reiterated that Air India is on a very aggressive growth trajectory to become number 3 in the world after US and China with a young strong fleet of 107 aircrafts and their aim is to "fly more and fill more". Kerala has become an important destination as there has been a 24% increase of traffic from Dubai. Within the next four years they will be purchasing nearly 100 new aircrafts and they have planned about 30 to 35 aircrafts to be purchased this year. In order to promote the new Dubai – Kochi service they will be offering a free baggage allowance of 40kgs on economy class and 50 kgs on business class with extremely competitive prices.   Some of the upcoming new routes will be Delhi – Copenhagen from May on the Dreamliner increasing their coverage of the European network with the existing flights to London, Birmingham, Paris, Rome, Milan, Frankfurt, Moscow, Vienna and Madrid. In July this year would be linking of the capitals of India with USA with a nonstop service between Delhi and Washington on their Boeing 777. This flight will add to the North American nonstop flights to New York, Newark, Chicago and San Francisco. Air India will commence operations linking Bangkok with cities of Kolkata and Chandigarh as well. On the domestic front frequencies from Delhi to popular destinations such as Port Blair, Bangkok, Leh, Nagpur and Ahmedabad will be increased from the summer schedule.