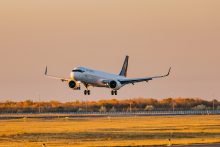 Air Astana launched in May 2002,with Dubai being amongst its earliest international destinations. Initial services from Almaty to Dubai started in August 2002 with twice weekly flights and followed with additional services from Nur-Sultan commencing in 2007. The number of passengers travelling on flights between Kazakhstan and Dubai has dramatically increased over the past 20 years, with less than 7,000 carried in 2002 and over 101,000 already carried during the first half of 2022. A similar jump can be observed in cargo volumes, with 54,000kg being uplifted in 2002 and reaching over 730,000kg during the first half of 2022. Flights to Dubai are currently operated by state-of-the-art Airbus A321LR aircraft, which are configured with 16 Business class seats and 150 Economy class seats.
"The UAE offers a wide range of leisure attractions and business opportunities, with Dubai proving to be a very popular destination for Kazakhstan travelers over the past 20 years," said Adel Dauletbek, Vice-President, Marketing and Sales, Air Astana. "Passenger traffic from Almaty and Nur-Sultan continues to grow strongly, and we plan to restore pre-pandemic frequencies from both cities later this year."
In the coming winter season, flight schedules to and from Dubai will be improved for passenger convenience, with departures from Almaty and Nur-Sultan in the morning and arrival at lunchtime, with the return departure from Dubai just after lunch and arrival back in Kazakhstan in the evening. Frequencies are scheduled to peak at 17 per week by the end of 2022, with ten services per week from Almaty and seven from Nur-Sultan.
Kazakhstan has re-established a visa-free regime for citizens of 57 countries, including the UAE, for up to 30 days to enter-exit and stay. Passengers arriving to Kazakhstan from foreign countries are not required to provide a certificate of vaccination or a PCR certificate with a negative test result for COVID-19.