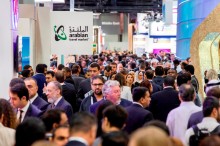 His Highness Sheikh Maktoum bin Mohammed bin Rashid Al Maktoum, Deputy Ruler of Dubai, has inaugurated Arabian Travel Market (ATM) 2018 today, marking the start of the 25th edition of the show. He was joined by Nick Pilbream, Divisional Director, Reed Travel Exhibitions, and other VIPs who embarked on a tour of the exhibition as the four-day industry showcase got underway. This year's show, held at Dubai World Trade Centre from April 22-25, 2018, has more than 400 main stand holders with representation from over 150 countries. With more than 40,000 visitors expected to attend, ATM 2018 will showcase over 2,500 exhibiting companies and 65 national pavilions. ATM 2018 has adopted Responsible Tourism – including sustainable travel trends – as its main theme and this will be integrated across all show verticals and activities.
Arabian Travel Market celebrated its silver jubilee with over 2,500 exhibitors and 40,000 industry professionals from 150 countries. Travel trade professionals from across the world's hospitality industry will showcase the largest exhibition of regional and global hotel brands, with hotels comprising 20% of the total show area. ATM 2018 will welcome over 2,500 confirmed exhibitors including 65 national pavilions. More than 100 new exhibitors are set to make their ATM debut this year, including Visit Finland, Guizhou Province of China, Hungarian Tourism Agency, Polish Tourist Organisation, Bosnia and Herzegovina, Dubai Municipality Leisure Facilities Department, Yas Experiences, Indigo Airlines, Kurdistan Tourism, Jakarta City Government Tourism and Culture Office and Shanghai
Municipal Tourism Administration, to name a few.