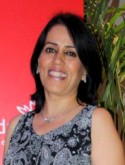 Come October, the first Arabian Travel Awards will recognise and honour the best in travel and tourism industry in the Middle East. This initiative to encourage industry professionals started with India Travel Awards in 2014 and has now become a well-established and sought-after award show.
The awards have been recognised for its fair and illustrious presence all over India. Being a formal black-tie event the awards are known for its glitzy, world-class ceremonies.
Arabian Travel Awards is organised and executed by DDP Publications, which has a long standing presence in the Middle East with TravTalk. Owing to India being one of the top source markets for the Middle East, specially the UAE and DDP's existing strong ties with the travel industry in the region, the response to the inaugural Arabian Travel Awards has been overwhelming with nominations already pouring in.
Gunjan Sabikhi, Convenor, Arabian Travel Awards, says, "Everyone needs encouragement to grow and Arabian Travel Awards is our initiative to help the industry in this endeavour. The Awards aim to recognise the contribution and achievements of travel and tourism players and reward those who have gone above and beyond to offer a superior tourism experience to travellers. We have received nominations from the remotest corner of the region. This Award will in turn help winners in improving their relationship with their suppliers, build their credibility and help them break into new markets."
Based on a unique system of nomination as well as self-nomination and voting system on the Internet, these Awards will be transparent, fair and unbiased.
Arabian Travel Awards will aspire the 'Best of the Best' in the region. The highest accolade in travel and tourism of the region, these awards shall be hailed (as in India) as the 'Travel Industry's Oscars' which identifies, recognises and rewards excellence.
To file nominations, the interested organisation or person may visit www.arabiantravelawards.ae. If the category under which you want to nominate is not available you may write to the organisers and the same will be created for you. There is no nomination fees for the awards.
"India being a major source market for the travel and hospitality trade of the middle eastern region, the Arabian Awards are being held in India to give the visiting trade fraternity an opportunity to network, interact and influence their trade partner and potentials. To create a perfect ground for cross pollination," Sabikhi says.