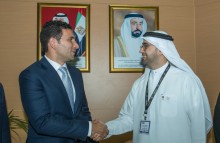 A new campaign deal has been inked between Wego and Sharjah Commerce and Tourism Development Authority (SCTDA) for an innovative destination co-marketing campaign to boost tourism in the Emirate of Sharjah. The campaign will promote authentic tourist experiences and hidden gems exclusive to the emirate, enabling tourists to surpass traditional generic pursuits. By showcasing some of Sharjah's biggest tourist attractions, through innovative online marketing activities, the campaign seeks to position the Emirate as a destination of choice amongst global travellers.
Sharjah's delightful mix of fun attractions, traditional hospitality and old-world charm, which resonate with a variety of audiences from around the world, will be promoted through this campaign. The campaign will focus on promoting the Emirate's much-loved events and activities such as, but not limited to, the Sharjah International Book Fair, Sharjah Calligraphy Biennial and Sharjah Traditional Crafts Forum.
"Sharjah is the perfect Middle Eastern city for travellers who wish to explore a 'fresh' destination packed with unique history and rich heritage and traditions," said Mamoun Hmedan, Wego Managing Director for MENA and India. "In order to boost the emirate's image as a family-friendly and culturally-charged destination, Wego will harness online tools such as high-impact display advertising, Search Engine Marketing (SEM), and unique content marketing tactics. Together, these digital marketing tactics seek to further strengthen SCTDA's ongoing marketing efforts," he added.