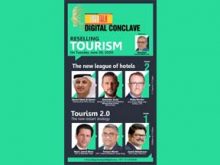 In just a few hours the first digital conclave – 'Reselling Tourism' with experts from the travel trade and hospitality sector will begin, organised by TravTalk ME today from 10am to 12.15pm (UAE time). For any query please contact Crisna de Guzman at crisna.deguzman@ddppl.com or call +971505074618, +971554704200. The event will be moderated by San Jeet, Managing Director-DDP Group. This will be a perfect opportunity to learn about the middle east, the current situation, what is expected, how to recover, what will be the new trends to look out for etc. So pose all your questions and make the most of this platform to learn more about the sectors.
Complimentary Registration for both sessions Tourism 2.0 the restart strategy and the new league of hotels.
*Session one: 10am to 11am*
*Tourism 2.0 – The new restart strategy*
https://event.webinarjam.com/register/139/wy0z2blm
*Session two: 11:15am to 12:15pm.*
*The New league of Hotels*
https://event.webinarjam.com/register/140/rymlob90
The perfect platform to engage with experts from the Middle East about the travel and hospitality industry with the new offerings post COVID era, how to cope with the pandemic and be safe whilst opening the UAE. The first session titled Tourism 2.0 restart strategy will focus on the key elements necessary to get back on track and the second will be focusing on the hospitality sector and its challenges and way forward.
You can pose your questions as you enter to the expert panelists Jamal Abdulnazar CEO Cozmo Travel, Nasir Jamal Khan CEO Al Naboodah Travel, Tarique Khatri EVP Centre of Excellence, Seera Group for the first session and Ahmed Obaid Al Qaseer Chief Operating Officer Sharjah Investment and Development Authority (Shurooq), Alexander Suski Associate Vice President Sales & Marketing Millennium Hotels & Resorts Middle East, Africa and Turkey and Philip Wooller Area Director-Middle East & Africa, STR for the second session about hospitality.