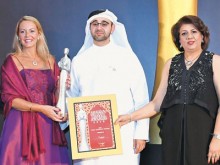 The coveted, Arabian Travel Awards, on June 13, 2019, announced its partnership with Travelport, a leading travel commerce platform, for its annual award ceremony in September this year.  Arabian Travel Awards is a platform for the Middle East to recognize those behind the success of the travel and hospitality industry and to reward their continued hard work. Travelport continues to be the technology partner for the third consecutive award ceremony, reinforcing the ties between these two leading brands in the Middle East.
Kathryn Wallington, Travelport's Country Manager for the UAE, commented, "We are delighted to partner with Arabian Travel Awards 2019 for the third consecutive year as the technology partner. In the past year, Travelport has worked closely with customers and partners to launch a series of innovative solutions in travel distribution and emerging technologies, such as mobile, AR/VR, blockchain etc. Meanwhile, we have solidified our leading position in rich content with over 270 airlines currently benefiting from Travelport's Rich Content and Branding merchandising. We also have a solid roadmap to embrace IATA's New Distribution Capability (NDC)."
Arabian Travel Awards are fair and unbiased, following a systematic method of internet-based voting. These awards are supported by media partners Travel TV.News, TravTalk Middle East, tourismbreakingnews and TravTalk India.
"This is the third consecutive year that Travelport is coming onboard as our technology partner at the Arabian Travel Awards and we are very excited to welcome them. Having one the world's biggest GDS platform as a partner is not a mean feat to achieve and we are happy that our association has only grown over the years. This is also a great opportunity for our award winners who will be recognized on a global scale thanks to the platform that Travelport provides to them. We hope that this association will scale new heights," stated Nikhil Jeet, Director, Arabian Travel Awards.
The awards will be divided into four categories — Personal Awards, Business Awards, Trending Awards and Partner Awards. They will include awards for the Best Business Hotel, Best Family Friendly Hotel, Best City Hotel, Best Green Hotel, Best Leisure Hotel, Best Destination Management Company, Best Hotel Apartments, Best B2B Travel Portal and Best Luxury Hotel, to name a few.