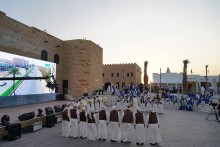 Tens of thousands of visitors have visited the National Festival of Heritage and Culture, the 33rd edition of Janadria, organised by the Ministry of National Guard under the slogan 'Faithfulness and Loyalty.' The heritage village at the festival as well as the shows of the folk groups from various regions of Saudi Arabia and some Arabian Gulf countries are popular and have become a milestone in the most beautiful elements of the tangible and intangible cultural heritage of the Kingdom of Saudi Arabia. Janadria is the largest cultural festival in Saudi Arabia and the largest event of its kind in the world that is being held for 21 days during the period from December 20, 2018 to January 9, 2019 as part of efforts to intensify attention to the Saudi heritage and regional and international visibility. In addition, it promotes a dialogue of cultures and civilisations between nations and people.
The heritage village at Janadria is attracting thousands of families from different age groups, in addition to the artisans who are present throughout the festival area, especially in the folk market.
The National Festival of Heritage and Culture offers heritage lovers a unique application which includes a complete definition of the Janadria Festival, a map of the stands and elements of the festival, activities and updated news about the festival on a daily basis. The folk groups programme is one of the most important pillars of the festival and there are more than 700 people that reflect the folk heritage, customs and traditions of all regions of Saudi Arabia and the GCC countries of the UAE, Bahrain and Oman.