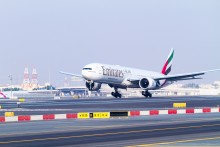 Emirates' first scheduled A380 services have just touched down in Boston and Amman for the summer season peak. The first scheduled A380 service landed in Amman on June 1 at 15:55 hrs local time and the second A380 service from Dubai to Boston landed at 13:50 hrs local time. Led by Captain Arif Al Reyami and Jordanian First Officer Laith Saudi, the A380 Amman service was greeted by a traditional water cannon salute.
Emirates will operate its A380 aircraft to and from Amman until October 26 to cater to the increased demand for travel during the peak summer period. The airline has adjusted its schedule on one of its three daily flights (EK 903/904) with the A380. Emirates A380 operations to Boston also coincide with high customer demand during the peak summer and winter travel season and will see overall capacity increase around 45 per cent between June 1 to September 30, 2019 and December 1, 2019 to  January 31, 2020. The move to deploy the popular A380 on both routes demonstrates the airline's flexibility to optimise the usage of its fleet to cater to passenger demand within its network.
The Emirates A380 flying to Amman is set in a three-class configuration, and will have 427 seats in Economy Class on the lower deck over the months of June and July, 76 flat-bed Business Class seats and 14 luxurious First Class Suites. First and Business Class customers can catch up, network and enjoy an extensive range of beverages and delicacies in the Onboard Lounge. The Emirates A380 flying to Boston is also set in a three class cabin configuration, offering 14 private suites in First Class, 76 seats in Business Class, and 426 spacious seats in Economy Class.