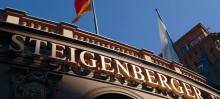 Steigenberger Hotels with its head office in Germany, has announced opening its first IntercityHotel in the Middle East.
The first IntercityHotel outside Europe is now opened in Salalah, located 1,000 kilometres to the South-West of the capital Muscat in Oman. This is the first international mid-market hotel in the city.The new hotel extends over eight stories and offers 70 rooms as well as a restaurant and a modern gym.
Puneet Chhatwal, CEO, Steigenberger Hotels , commented: "Following our Steigenberger début in Dubai in November last year, we are now bringing our IntercityHotel brand to the Middle East for the first time. This represents a further important milestone for us."
The project was implemented in conjunction with the owner Al Sedra Real Estate of Oman, a subsidiary of the Golden Group of Companies, which is a multi-national operating in more than ten countries.