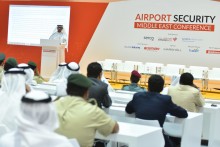 Major General Mohammed Ahmed Al Marri, Director General, General Directorate, Residency and Foreigners Affairs – Dubai (GDRFA-D) has said that by 2030, the smart gates at Dubai airports will replace passport officials' platforms with a view to reducing the human involvement factor in application of Dubai's 10X initiative. Delivering the welcome address at the Airport Security Middle East conference on the second day of the 18th edition of Airports Show, Al Marri said, "We have created smart gates projects in an exclusive and modern way, and these amount now to about 122 smart gates. We have created a number of smart projects in Dubai international airports, the latest of which is "Next-Generation Departure" project, which will enable passengers complete their travel procedures in the least time possible."
Delivering the opening keynote address, Col Hamooda Belsuwaida Alameri, Assistant Director General Operations at General Department of Airport Security, Dubai Police said, "Dubai police has plans to coordinate its human resources and capabilities to ensure security at airports. The airport security challenges are land side security, cyber security and security check points. Airports, the police and the security agencies need to collaborate and exchange information as well as to do risk assessments to ensure security on all fronts."
Technologies have been put into strategies and plans to have security checkpoints of the future to make Dubai airports safe and secure for all our clients, he added.