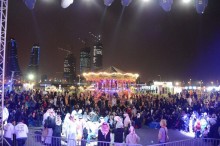 The 5th edition of the Bahrain Shopping Festival – 'Shop Bahrain' – is taking place from January 1 to February 2, 2019. Celebrating the best of the Kingdom's tourism and retail sectors, the event offers a unique shopping experience filled with many valuable prizes for shoppers. The 30-day festival has been organised by the Bahrain Tourism and Exhibitions Authority (BTEA) in cooperation with a number of strategic partners from the public and private sectors including Tamkeen, VIVA Bahrain and Gulf Air, as well as the AA Bin Hindi Group. During the launch, Shaikh Khaled bin Humood Al Khalifa, Chief Executive, BTEA, commented, "The Bahrain Shopping Festival reflects the keenness of the authority to host local events of global standards and attract visitors and tourists from all over the world by joining a wide range of entertainment events and the chance to win valuable prizes.
"This edition of the festival aims to stimulate the national economy by focusing on retail and tourism sectors. The transactions recorded in the last edition reached a total of BD19 million and attracted more than 122,000 visitors from Bahrain and other countries. In this edition, we expect to attract more visitors and generate greater values through the valuable prizes and activities offered by the partners from both public and private sectors," he added.
Prize partners include Gravity, Awal Gas, Hawar Beach Hotel, Kitchen for Life Company, the Ice Cream Shop and Rahim Holdings. This year's edition will feature more than 73,000 prizes including 11 cars, electronics from AA Bin Hindi Group, 5,000 airline tickets at special rates from Gulf Air, thousands of instant prizes from VIVA and much more. The loyalty system enables shoppers to enter the raffle draw and get the opportunity to win valuable prizes.
The participating shopping malls will offer a unique shopping experience by hosting a large number of entertaining activities for all family members. The Festival City will be held from January 17 until February 2, 2019 at the Festival City Partner: Bahrain International Circuit. The Festival will offer a range of retail experiences.