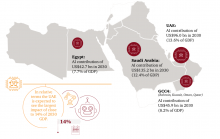 The annual growth in the contribution of AI is expected to range between 20-34 per cent per year across the Middle East, with the fastest growth in the Saudi Arabia, UAE, and Egypt. The $135 billion investment plan in digital transformation set by Vision 2030 will transform the Kingdom of Saudi Arabia into the global epicentre of the Fourth Industrial Revolution and supercharge the Saudi economy as a global powerhouse in the digital age.
A PwC 2018 report estimated that AI could contribute up to $15.7 trillion to the global economy in 2030, more than the current output of China and India combined. Of this, $6.6 trillion is likely to come from increased productivity and $9.1 trillion is likely to come from benefits to consumers.
PwC's report estimated that the Middle East is expected to accrue 2% of the total global benefits of AI in 2030. This is equivalent to US$320 billion where the largest gains are expected to accrue to Saudi Arabia as AI is expected to contribute over US$135.2 billion in 2030 to the economy, equivalent to 12.4% of GDP. In relative terms the UAE is expected to see the largest impact of close to 14% of 2030 GDP. AI contribution in Egypt is expected to reach US$42.7 bn in 2030, equivalent to 7.7% of the Egyptian GDP.
To meet the demand for having a global platform gathering world class technology experts, the Saudi Emerging Technologies Forum will take place from November 11-13, 2019 in Kempinski Hotel in Riyadh.  The forum is a mega event that will gather over 500 government officials and senior level executives, more than 50 speakers, leading 12 panel discussions with the participation of 900 attendees, 60 exhibitors, 12 Certified Technical Workshops, 30 Proof of Concepts & Live Demo Sessions, and a dedicated focus day for IIOT. Furthermore, 10 pioneers in innovation will be celebrated with Awards of Excellence in recognition of their efforts on digitisation.