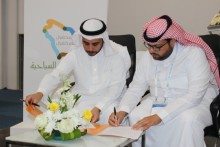 Saudi Commission for Tourism & National Heritage represented by the Tourism Routes Program, signed a media cooperation agreement with Eye of Riyadh with the aim of marketing the program, raising national awareness about it and contributing to support the tourism sector in the Kingdom of Saudi Arabia in accordance with the vision of 2030 aiming at upgrading this sector to the highest levels of what contribute supporting the economic development of the country.
Commenting on the agreement, Abdullah Mataen, the General Supervisor of Tourism Routes Project in the commission, clarified that one of the most important objectives of the program is to discover Saudi Arabia in its real image, through identifying the most beautiful diverse and dazzling places and by motivating the citizens and the residents to see them through several amazing tourist routes. He confirms saying: "Our agreement today with Eye of Riyadh is to move forward to expand the circle of tourism knowledge, so that every citizen and resident in the Kingdom should have the sufficient knowledge that in Saudi Arabia he can go to the desert, climb mountains, catch fish, dive into the surprises, coexist with the history and civilizations of various eras, taste the best food, and learn the most beautiful folk arts and dances."
"Our confidence in Eye of Riyadh is what motivated us to choose them to be our media partners in our next phase, by using their expertise in marketing, media and advertising alike" Mataen added.
Abdullah Al Harbi, CEO, Eye of Riyadh, stressed the idea of exploiting the features of Saudi Arabia in promoting all types of tourism available in it, whether it is recreational, sports or shopping, and even the events and occasions tourism. "This is why we are at the Saudi Travel & Tourism Investment Market 2017 today to play our role as an effective part of the tourism in the country."