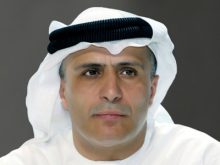 Dubai's Roads and Transport Authority (RTA) will be the host of the World Congress of Intelligent Transportation Systems (ITS World Congress) 2024, which marks the first time this signature event is held in the region since launched in 1994. RTA was privileged by hosting the event following its nomination by ITS Europe, an organisation to which RTA has recently been affiliated. The Congress is supported by three prominent entities of the industry, namely ITS Europe, ITS America, and ITS Asia-Pacific.
His Excellency Mattar Mohammed Al Tayer, Director-General, Chairman of the Board of Executive Directors of RTA, said, "Hosting the ITS World Congress 2024 in Dubai underscores the rising global standing of the Emirate in the field of ITS, the confidence of such reputed entities in the role of Dubai, and the ability of the city to stage successful global events."
"The hosting of the Congress comes in light of the massive steps made by Dubai in advancing ITS as witnessed by the portfolio of smart projects undertaken by RTA in anticipation of the future such as intelligent transport centres, and self-driving transport as well as the enablers of the 4th Industrial Revolution such as the IoT, AI applications, machine learning, big data, robotics, and mobility power solutions," said Al Tayer.
"RTA is keen to keep abreast of the Government's future directions of transforming Dubai into a smart, innovative and sustainable city that uses cutting-edge telecommunication and digital technologies. In this regard, RTA is proceeding ahead with the Dubai Smart Self-Driving Transport Strategy aimed at converting 25% of total mobility journeys in Dubai to smart self-driving journeys by 2030. As such, advancing the smart mobility is based on three elements: customer's centricity, integrated and connected transport and driving innovation and public-private partnerships," commented Al Tayer.