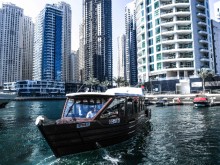 The Roads and Transport Authority (RTA) has launched the first electric service in Dubai Creek, which starts from Al Seef, Baniyas and Festival City as part of its efforts to expand the maritime transport network and enhance the tourism sector in Dubai.
Nazem Faisal, Director of Maritime Transport at the Public Transport Agency, said, "The launch of the maritime transport service in Ebraat is achieving several objectives, including expansion of the maritime transport network and revitalizing the tourist side of the Dubai Creek because of its tourism heritage, which attracts more The service was launched in cooperation with a number of developers and strategic partners. Customers can pay 60 dirhams for a half hour trip or 120 dirhams For One piece.
He added that the launch of the Ibra electric service enhances the RTA's directions using clean energy in the city. Transportation, which provides an ideal marine environment, and embodies the fifth strategic objective "Sustainability and Environmental Safety".